Medical Practice Administrator
Everton A. Edmondson, M.D., P.A.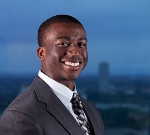 "I've learned many things that I've been able to tie into my present job as an office manager and medical practice administrator. I took a class on strategic staffing and was able to evaluate our recruiting strategy, our job design, and the way we word our job descriptions. A program evaluation class taught me how to evaluate the way we selected our electronic medical record system. Employment law, discrimination, compensation strategies, employee performance assessments; there have been a number of different concepts that I've been able to put into place in my Dad's medical practice."
Everton A. Edmondson, Jr. enrolled in UConn's Masters in Human Resource Management program because it gives him the flexibility to work full time while earning his degree and gain practical skills and knowledge that he can put into practice even before he graduates.
He earned a degree in psychology at Loyola University New Orleans in 2003, but knew he didn't want to work in that field. He began working in his father's medical practice so he could take the time to figure out where his passion lies. When he decided on a career in HR, he searched for an online program that would fit his criteria.  "I wanted an online program with a high caliber school that had a great reputation," he says. "Once I researched the curriculum, I chose UConn."
Edmondson started UConn's HRM program in January 2010, taking only one class the first semester so he could get acclimated to taking graduate level courses while working full-time. That schedule suited his needs and he continues to take one class a semester.
"I value a work-life balance that allows me to stay focused in all areas of my life," he says. "Taking one class a semester has worked out well; my grades are good and I'm learning and enjoying the program without the rush of trying to finish."
The flexibility of UConn's online program allows him to do his coursework at a time and from a place that fits his schedule, whether it's his lunch hour at work, late at night, or on weekends from his living room. His interaction with classmates and faculty adds to the learning experience.  "It was nice to be able to hear other people's experiences, identify closely with the professors, and develop a connection with the school. I was very impressed with the UConn faculty," he adds. "Every professor has gone above and beyond to make themselves accessible to the students through email, phone calls, video chat sessions on Skype – a number of different formats to allow for discussion and question and answers."
After Edmondson earns his Masters in HRM degree, he'll use that expertise in his father's medical practice for several more years before pursuing an HR position at a hospital in Houston. "Having a UConn masters degree is going to give me an advantage over other applicants," he says. "Coupled with over 10 years of work experience, it will give me more credibility and help me get my foot in the door."
"It's been a good all around experience for me."