Human Resource Director
United Healthcare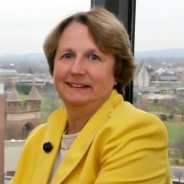 "The academic experience at UConn was wonderful. Even though I had years of practical experience in the HR field, I was constantly challenged by the professors as well as other students in the class. The courses reflect what you do in your day-to-day real life job in human resources, and are always changing depending on trends within the industry. UConn searches out faculty with practical experience in the field to teach the courses and mixes that with academic faculty. It makes for a nice blend and better learning experience for the student."
Holly Schaefer had lost her job as a result of a bank merger and began working as a Human Resource Business Partner at Aetna in Hartford when she applied to the UConn Masters in HRM in fall 2006. Her struggle to find that position made her realize the importance of an advanced degree.
"I had more than 15 years of experience in the HR field, but there were some companies that would not look at my resume without a master's degree," she said. "I spent 12 months out of work and decided that when I landed another job I would utilize their tuition reimbursement program and pursue my master's degree in HR."
Schaefer chose UConn's HRM program because of the University's name recognition in the HR industry, as well as the flexibility of the online learning environment.
"Given my work and travel schedule, the flexibility of being able to attend class when it was convenient to me was important," she said. "I could attend class from anywhere. The flexibility of the course structure and not having to physically get to a campus classroom from work was a big plus."
Fitting her studies into her working schedule, as well as her other commitments, was a challenge, so Schaefer decided to take one class a semester even though it would take longer to complete her degree.
"For me it was the most practical way not to become frustrated or overwhelmed with the course work," she added. "Most of my school work took place during the weekends and occasionally on a week night as well. The deadlines for assignments by the professors allowed this type of schedule to work."
She found the online learning environment challenging as well. "Having spent previous educational experiences in a traditional classroom setting, the online setting took some time getting used to and there was an adjustment period," she said. "Another challenge was being disciplined enough to stay focused and complete the required work in a timely manner or you could easily fall behind. A third challenge was communication, which was all written. You lose the ability to have face-to-face conversations and sometimes things can get misinterpreted through the written word."
Schaefer, who graduated in May 2011, enjoyed the interaction with other students in the online conversations and assignments, and served as a mentor for other students. "It gives you other perspectives on any given subject or topic," she said. "I found myself having the most experience in the HR field and was able to share that with other students. In the same manner, it was helpful to see how a newer student in the field viewed things or how MBA students in a class like Compensation & Benefits viewed the topic and applied it to their major."
Taking HR courses while working in the field allowed her to immediately apply her new competencies and knowledge to her role at Aetna. Being enrolled in the Masters in HRM program was also of value when her current employer, UnitedHealth Group, was looking to fill a Human Capital Partner position and recruited her for the position.
"The program helped me in being a change steward, assisted me in talent management and organizational design, as well as becoming a stronger strategic business partner," Schaefer said. "Change management, strategic business partnership, and the ability to present a project to a review board have all helped me in my current position. The Quantitative Analysis course was also helpful as we are constantly asked to base decisions on data and analyze data on behalf of our businesses."