Human Resource Director
OEM America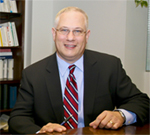 "The most exciting learning is social and collaborative. Peers within the HRM program bring incredibly diverse views and experiences to the group. We bounce ideas off of one another that relate to the challenges and solutions we encounter in the working world and function as a 'think tank'. Students collaborate on projects and hold discussions to help build upon one another's learning experience from different geographical points and time."
John Grubbs was working as an HR Manager at Niagara Thermal Products with 14 years experience in the HR field when he entered UConn's Masters in HRM program. He researched HR graduate programs at more than 20 schools before selecting UConn.
"I wanted a program from a nationally recognized, leading institution," he said. "The most critical components were the relevance of the curriculum to the 'real world' of HRM and a program delivery that combined distance learning with residency. The UConn HRM program offered access to faculty that were not only credentialed through some of the top schools in HR, but were leaders in real-world application."
The flexibility of the program, which allowed him to fit the demands of his work and family life into his education, was extremely critical to Grubbs.  "In the last year and a half, I moved my family from Tennessee to New York to Connecticut," he said. "I needed a program that would fit within my very busy work and life schedule. The HRM program offered that flexibility."
Working with other motivated business graduate students was another key benefit of the program. Grubbs discovered the opening for his present position as Human Resource Director for OEM America via a network he developed during the program that included Tracy Michaud, a subject matter expert at OEM who spoke at a UConn HRM event.
Grubbs was especially impressed with the UConn faculty and the time he spent with them during the program, which added a personal touch to the online learning experience.
"My expectations were set high from the beginning, and the HRM faculty lives up to that reputation," he said. "The faculty [got] to know me as a learner and to understand my goals and objectives. The faculty is very engaging and takes great pains to make sure learning needs are being met through personal meetings, conference calls, and individual phone calls."
Although Grubbs has worked in HR in private industry and in government throughout his career, the coursework taught him the value of keeping an open mind to different points of view. He believes the knowledge and skills gained from the Masters in HRM program will help him strategically throughout his HR career, wherever it may take him.
"There is a fierce competition, especially in the current economy, to do more with less and to bring greater impact and effectiveness to the table," he explains. "There has also been a movement for HR to become a business partner. There is absolutely no way to succeed without being the best at 'how' you do the 'what' that you do. This program focuses intently on both, with the curriculum, the faculty, and the students in lockstep to equip graduates with content and context to succeed."