UConn's MS in Human Resource Management is a 33-credit, non-thesis part-time master's degree within our top-ranked School of Business.  Courses are offered in a unique blend of on-campus and online learning that takes advantage of UConn's expertise in both instructional modes.  Recognizing that today's professionals are actively balancing career, home, and personal demands, the MSHRM program offers accelerated courses in seven-week sessions throughout the year.  The program schedule is designed to allow students to focus on a single course each session while completing the program in 20 months.  Each semester's coursework includes four integrated Saturday Seminars at our Graduate Business Learning Center in downtown Hartford.
You'll study alongside a talented and diverse cohort of fellow students, building professional networks that extend beyond the classroom.  The set sequence of classes is supplemented by your choice of two electives either from the HRM field or from other business academic areas including marketing, finance, accounting, and operations.  We even take care of the details of registering for courses so you can focus purely on your academics.  By carefully selecting your two electives, you can focus your studies on particular areas of Human Resources or business that interest you, including Employment Law, Diversity and Inclusion, Negotiation Strategies, Employee and Labor Relations, or even Marketing, Management, Finance, Accounting, and Operations and Information Management.  We lay out the path while you choose the best options to meet your professional and personal goals.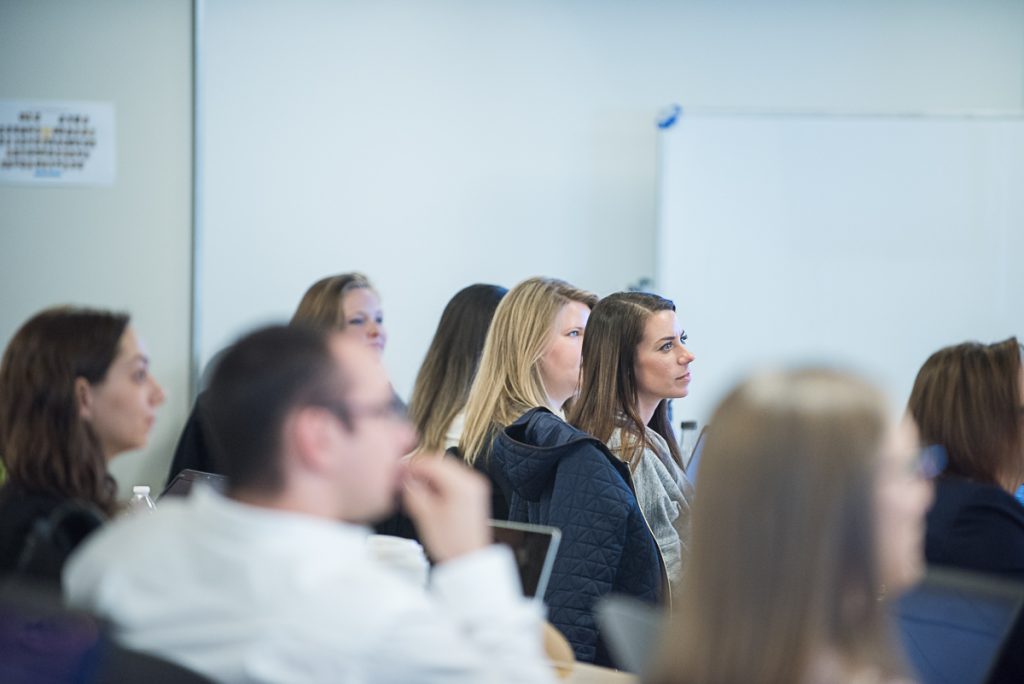 The program kicks off with an interactive orientation at our Graduate Business Learning Center in downtown Hartford.  This event launches the program and starts you at the core of Human Resources - understanding business strategy and how HR plays a critical role in strategic execution and organizational design.  Courses then branch out to include important topics including talent management, compensation and total rewards, organizational risk, and HR metrics and talent analytics.  The final course is our HRM Capstone, where students develop real-world business cases that assess an HR issue and its impact on the organization, its people, and its stakeholders.
If you've considered getting your graduate degree but haven't found a program that fits your needs, register to request information.  We'd be happy to talk with you about how UConn's distinctive program can help you on your path to HR leadership success.