As a UConn graduate HRM student, you will join a top-ranked business school that offers full access to a diverse university system located across the state of CT and a vibrant online community of business leaders. You will have access to our distinguished faculty, lively social events, impactful services within the Graduate Career and Professional Development Office and world-renowned UConn athletics
Cohort Experience
Cohorts are collaboration rich environments designed to foster a tight-knit learning community.  Taking the bulk of HRM courses as a cohesive unit,  UConn's MS HRM cohorts are comprised of 30-40 students from diverse backgrounds with a common goal to sharpen HR skills while building a deep and lifelong peer network.  Members have the opportunity to both support and be supported through their graduate school experience, with career benefits that will span years after graduation.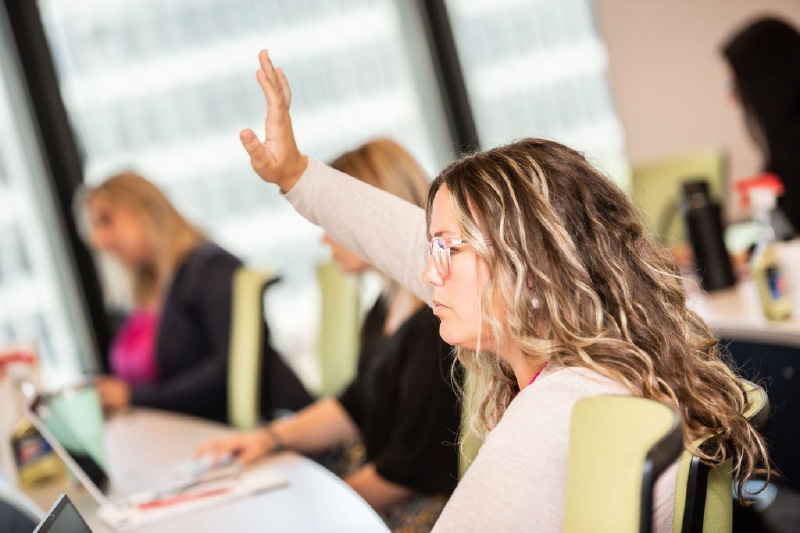 Since starting the program, my professional network has actually doubled in size, and that's just according to LinkedIn.  And I know these relationships will continue into my future.
– KAROLINA LAFLAMME, 2023
Enrich Your Student Experience
UConn School of Business offers its students a robust student life inside and outside of the classroom. Student-led clubs bolster business students' educational experience and add value to your resume to maximize career growth. UConn clubs include the Graduate Business Association, Graduate Consulting Club, Women in Business, Net Impact (Sustainability) Chapter, and Graduate Diversity Club.
Student Ambassadors
UConn's MS HRM Student Ambassadors are either current cohort members of the graduating class or recent alumni who are excited to share their experiences to help guide your personal journey. They are happy to share insights about faculty, program delivery, cohort benefits, and personal success stories. Ambassadors provide a preview of what it's like to be a graduate business student while juggling your real-world responsibilities. 
Meet UConn's HRM Student Ambassadors
Click on their name to view a brief introduction, LinkedIn profile and contact information.  Please allow 24-48 hours for responses.
Ambassador - Jennifer Fass

Ambassador - Nicole Garlock

Ambassador - Heather Schrang

Alumni Ambassador - Shannon Milliard
Alumni Network
UConn is proud to boast over 230,000 business school alumni across the globe. Upon graduation HRM students become valued members of this alumni network which focuses on establishing long-term personal and professional growth opportunities. UConn's MS HRM alumni are a highly engaged group of graduates who strive to support current students through the classroom experience and beyond.
Get Involved with Student Organizations
HR Case Competitions

Experiential Learning Centers and Institutes 

Social and Cultural Events

Conversations with Keynote Speakers

Roundtable Discussions with Industry Experts

Alumni Networking and Social Events

Various Student Resource Centers (e.g., health services along with educational and mental health support)